NO. VERSAILLES, PENNSYLVANIA'S KIM RANCATORE NAMED "BUSINESSWOMAN OF THE YEAR"
Posted on 08/25/2009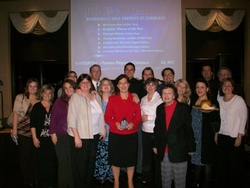 Kim Rancatore, co-owner of the North Versailles, Pennsylvania based Minuteman Press Center was recently honored by the Monroeville Area Chamber of Commerce as "Business Woman of the Year".
She received one of the 7 ROCS Awards presented at the Chambers gala dinner awards ceremony. ROCS stands for Recognize individuals, Organizations & Companies that Shine. Her award recognizes the local business person (female) that has demonstrated stability, innovation, perseverance and a commitment to making the community a better place to live, learn, work, shop and play. The recipient serves as an inspiration to the community and a credit to her business or profession. Congratulations Kim!