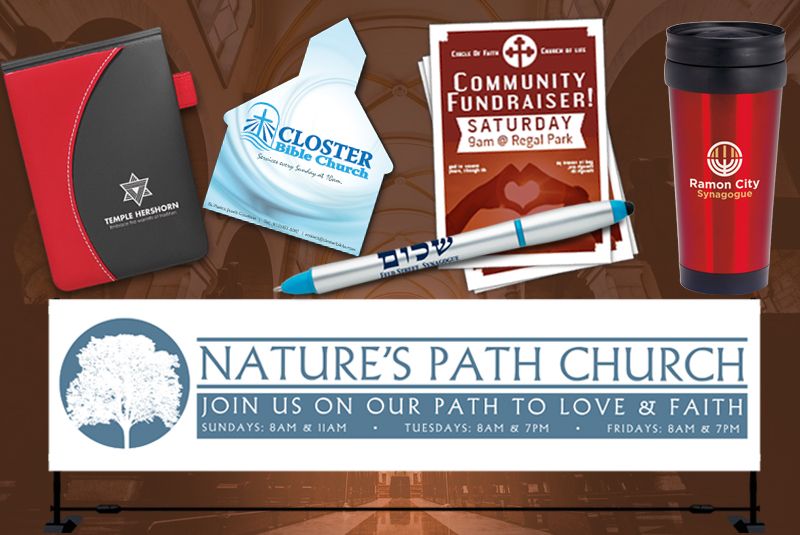 For over 40 years, Minuteman Press has helped the religious community by offering cost-effective design, printing, and marketing services. Our experienced and friendly professionals will help your organization design and print special bulletins, newsletters, programs, flyers, or any other printed materials you need to share your important messages with new and existing members. You can also rely on your local Minuteman Press to assist you with the marketing and promotion of all of your special events including fundraisers, enrollment programs, school and group functions, and more. We are here to meet your needs
Here are four ways Minuteman Press can help design, print and promote your religious group or organization:
Do you want to add a professional look and feel to your important stationery, newsletters and programs? We have graphic designers in-house to make sure your message stands out and impresses your members or recipients.
Do you run special fundraising events or have weekly events you need to promote? Let us help you spread the message with professionally designed and printed posters, banners, postcards and flyers.
Improve your visibility right where you are with top-level signage for your organization. We can produce custom indoor and outdoor signs of any size for any surface.
Looking for more ways to really stand out? Our experienced design and printing staff will work with you to provide you with a strong, powerful brand identity that resonates with your audience and reflects your organization's mission and goals.
Key items: creative and graphic design services, stationery, bulletins, newsletters, programs, flyers, fundraising posters, banners, postcards and flyers, signs and signage, branding solutions
Get started with Minuteman Press today! Find your local design, marketing, and digital printing franchise at www.minutemanpress.com/store-search.html