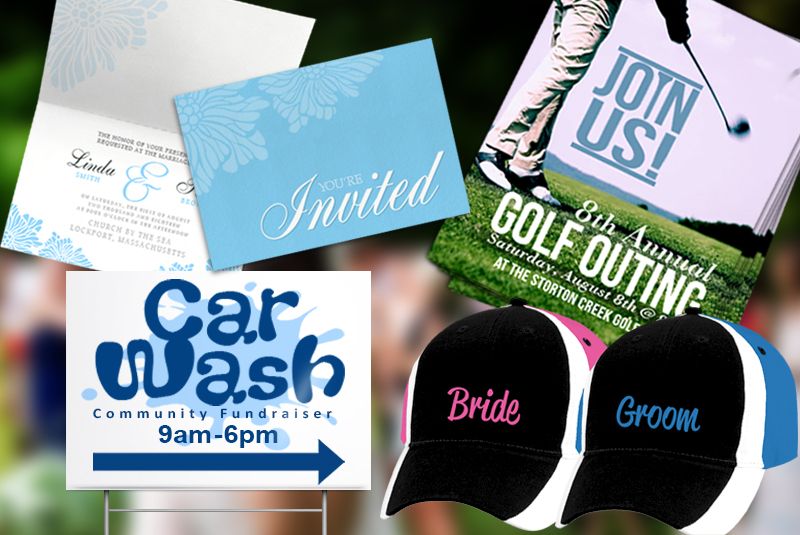 For over 40 years, Minuteman Press has been a trusted marketing and printing partner for event planners. We offer cost-effective design, printing, and marketing solutions to help promote any kind of event: golf outings, weddings, fundraisers, conferences, awards ceremonies, concerts, art exhibitions, grand openings, trade shows, and more. Whether you are promoting an upcoming event or need essential printed materials to use and distribute at your event, we are here to meet all of your needs.
Here are seven ways Minuteman Press can help design, print and promote your upcoming events or your event planning business:
Are you running events in your community? Let us help you spread the message with professionally designed and printed posters, banners, postcards and flyers.
Looking to connect with new customers online and in print? Ask us about developing cross media marketing campaigns and our SEO & SEM services.
Want to reach new or existing customers? Take advantage of our cost-effective direct mail advertising solutions and reach into the homes of residents who are your target audience.
With professional graphic designers on staff, we can design, print, and deliver special announcements, invitations, save the dates, postcards, and anything else you need to send to your potential guests.
Let your participants at special events wear your logo and colors with pride. Get custom branded apparel including promotional t-shirts, golf shirts, beachwear and outerwear. Are you looking to stand out with unique orders? We have you covered as we can produce anything you can put a name, image or logo on!
Are you managing an awards show or looking for a meaningful way to show your appreciation for your clients, colleagues, or fans? We can help you design a custom awards program that includes printing, special awards, plaques and gifts, and promotional prizes. Ask us about our strategic consulting services!
Improve your visibility with top-level signage for your event. We can produce custom signs of any size, pop up banners, flags, direction signs, vehicle wraps, and anything else you need to show who you are and display your message.
Key items: posters, banners, postcards, flyers, direct mail and targeted marketing campaigns, Every Door Direct Mail, cross media marketing, SEO & SEM services, announcements and invitations, creative / graphic design and brand identity services, custom branded apparel, promotional t-shirts, golf shirts, beachwear and outerwear, strategic consulting, awards, plaques and gifts, promotional prizes, signs, pop up banners, flags, direction signs, vehicle wraps
Get started with Minuteman Press today! Find your local design, marketing, and digital printing franchise at www.minutemanpress.com/store-search.html