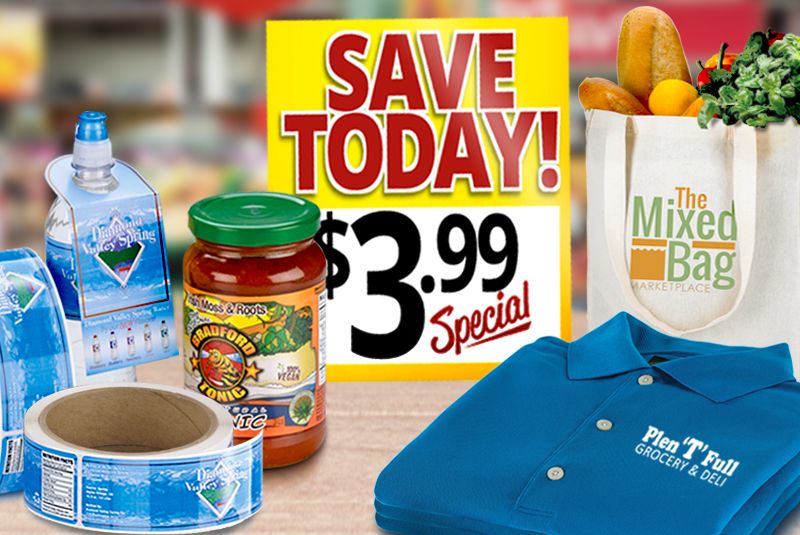 For over 40 years, Minuteman Press has been a trusted business partner to the food services industry. Whether you are looking to increase your brand awareness with customers or need custom designs and products such as food and beverage labels, packaging supplies, signs, catalogs, and coupon books, we have the ability as well as the experience to help you deliver results and exceed expectations.
Here are six ways Minuteman Press can help design, print and promote your food services business:
With professional graphic designers on staff, we can produce custom logos, graphics, and labels for your products. This includes specialty decals, stickers, labels (including food and beverage labels), branded packaging supplies, and other hard-to-find items.
Need to display important information or market your latest products and deals? We will create and print custom signs, banners, posters, coupon books, catalogs, brochures, informational rack cards, and more.
Do you run a "Thank You" rewards program for loyal customers? We will work with you to develop and refine your marketing program to optimize participation and response.
We offer custom branded apparel to meet all of your needs, from shirts and pants to full uniforms – casual, corporate, deli, kitchen, and more.
Make your official correspondences stand out with customized business cards, stationery, letterhead, envelopes, and forms.
Attend a lot of trade shows or industry events? We can provide trade show supplies with strong, consistent brand identity across all materials being displayed or handed out. This includes pop-up banners, custom booth displays, presentation folders, pens and pads, tote bags, and anything else you need.
Key items: graphic design, food and beverage labels, branded packaging supplies, decals, stickers, signs, banners, posters, coupon books, catalogs, brochures, rack cards, marketing programs including "Thank You" rewards, custom branded apparel, uniforms, stationery, business cards, checks, forms, digital printing, trade show supplies
Get started with Minuteman Press today! Find your local design, marketing, and digital printing franchise at www.minutemanpress.com/store-search.html